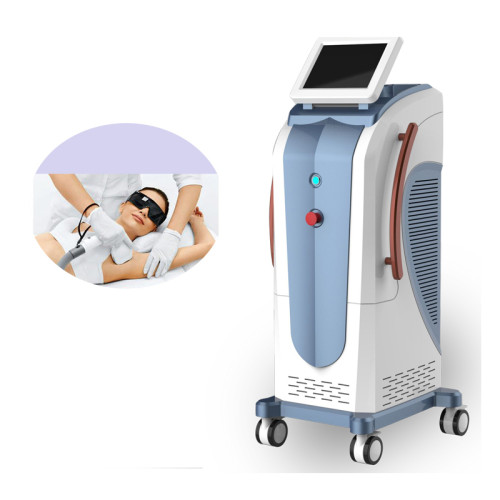 Factory Direct Supply 808nm Laser Hair Removal Machine
Item specifics
Screen

TFT 10.4"
Spot size

12mm*12mm
Laser wavelength

808nm
Working mode

Pulsed
Light source

Diode Laser
Crystal

Imported sapphire
Operating mode

HR and FHR
Frequency

1~10Hz,step 1
Fluency

80j/cm2(max)
Rated input power

1500VA
Shots Warranty

20M shots(in one year)
Physical Dimension

400mm*350mm*1100mm
Description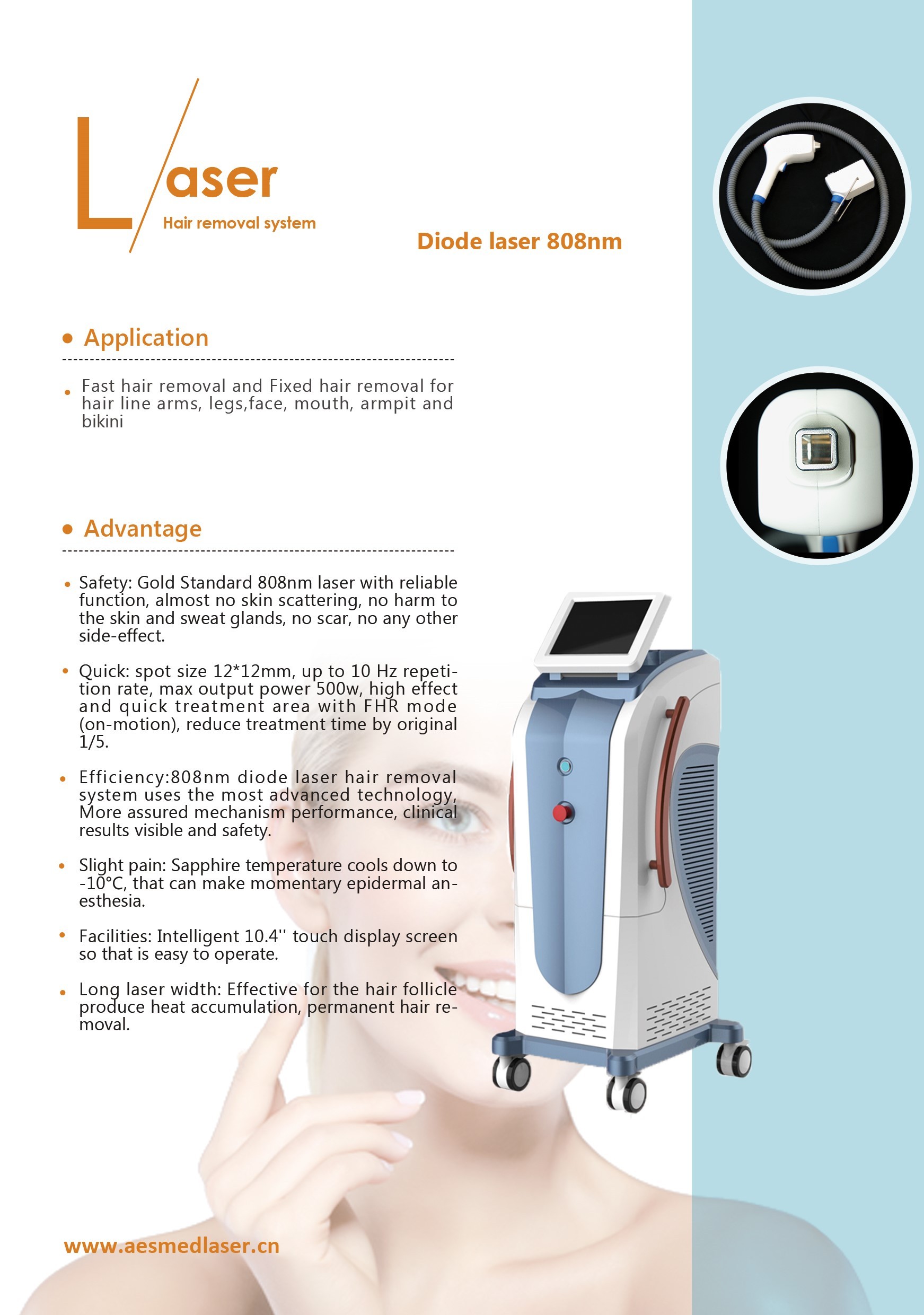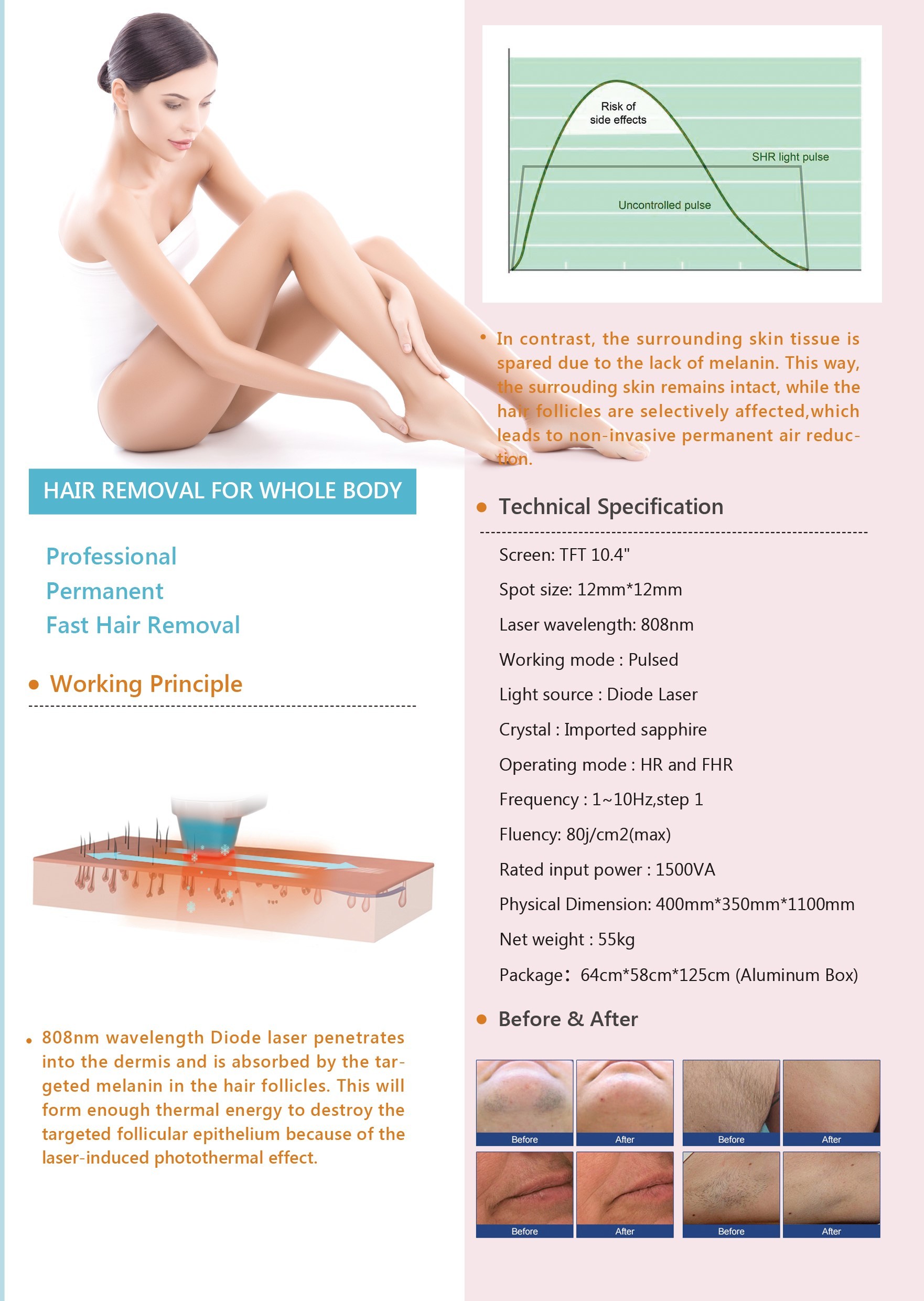 diode laser hair removal
Application
Permanent no pain hair removal for any area of the body, such as: beard,Lip hair, armpit hair, chest hair, back hair, arm hair, leg hair, unwanted hair and so on ;
Pain-Free, Hair-Free - Comfortable Hair Removal
Effective treatment of Pigmentation, freckles,Skin elasticity improvement.
Theory:
808nm wavelength Diode laser penetrates into the dermis,and is absorbed by the targeted melanin in the hair follicles. This will form enough thermal energy to destroy the targeted follicular epithelium because of the laser-induced photothermal effect.
In contrast, the surrounding skin tissue is spared due to lack of melanin. This way, the surrounding skin remains intact, while the hair follicles are selectively affected, which leads to non-invasive permanent hair reduction.
Advantage:
Safety: Gold Standard 808nm laser with reliable function, almost no skin scattering, no harm to the skin and sweat glands, no scar, no any other side-effect.
Quick: spot size 12*12mm, up to 10 Hz repetition rate, max output power 600w, high effect and quick treatment area with FHR mode (on-motion), reduce treatment time by original 1/5.
Efficiency:808nm diode laser hair removal system uses the most advanced technology, More assured mechanism performance, clinical results visible and safety.
Slight pain: Sapphire temperature cools down to -10℃, that can make momentary epidermal anesthesia.
Facilities: Intelligent 10.4'' touch display screen so that is easy to operate.
Long laser width: Effective for the hair follicle produce heat accumulation, permanent hair removal.
Features:
1、The water quality auto detection system ensures that the water quality is alarmed once it gets polluted;
2、Long lifespan filters with fast connection design ensures less maintenance fee;
3、Optimization of cooling-water pressure and flow, tips temperature: -10~5℃;
4、Extra real-time detection installed of output of laser power supply;
5、Double checking system enhance the laser output stability and safety
6、Imported diode laser module with long lifespan